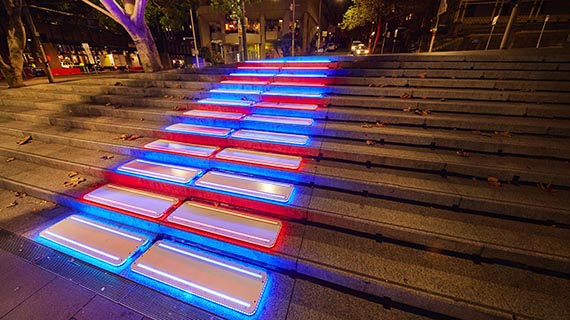 When:
22 May
-
08 Jun 2015
18:00 - Midnight
Artists: Reuben Young/ Andrew Handmer/ Jessica Chalker/ Annalie Killian/ Tim Carr
Contributors: ARUP
Country: Australia
AMP's Piano Stairs transforms the external stairway of the iconic AMP Building at Circular Quay into a giant piano keyboard, as visitors are invited to trip the light fantastic up and down the steps and give us their most 'noteworthy' performance.
A fun way to encourage physical activity, teamwork and collaboration, Piano Stairs are a toe-tapping way of making music and shedding a few calories at the same time.
The music performed on Piano Stairs can go from experimental sounds made by tentatively testing the ivories, to a series of ascending and descending scales performed by individuals doggedly walking up and down the steps. More active participants can collaborate in delivering more complex tunes – and at the same time enjoying an aerobic workout.
Piano Stairs is one of three lighting installations in the vibrant AMP Quay Quarter during Vivid Sydney 2015.