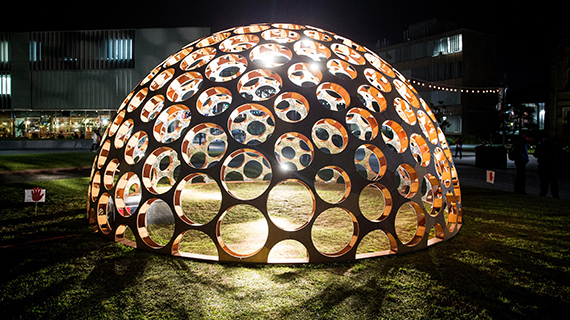 When:
25 May
-
31 May 2015
18:00 - 23:00
Location:
The University of Sydney, NSW 2006
Artist: Ivana Kuzmonovska and Rachel Couper
The artistically stunning and technically masterful Mirador is a 3.5 metre high dome lined internally with mirrors. Its Spanish origin, mira, means to look at or to wonder at. In the Mirador observatory, spectators catch reflections of themselves within the same view of the environment they are surveying. This impressive dome will be transformed into a beautiful lighting display for Vivid.
Designed by University of Sydney PhD candidate Rachel Couper  and recent graduate of the Master of Architecture program, Ivana Kuzmonovska, Mirador is an experience of reflected yet impossible places.
Explore the University of Sydney's Vivid precinct light program including the Quadrangle light show and installations along Eastern Avenue promenade.