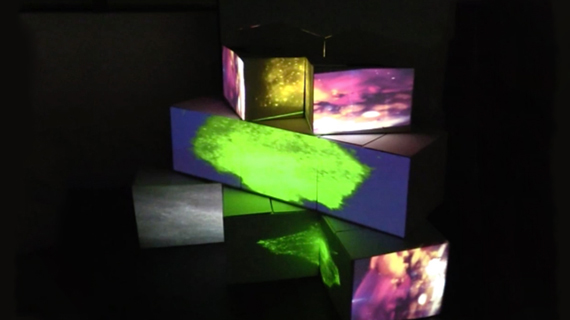 When:
25 May
-
31 May 2015
18:00 - 23:00
Location:
The University of Sydney, NSW 2006
Creative Team: School of Medical Sciences: Professor Philip Poronnik, William Swann (Hons); Charles Perkins Centre: Professor David James, Dr James Burchfield, Dougall Norris; Talented Student Program: Andrew Chan (mentor), Dominique Louw, Lilian Ma; 3rd Year BMed Sci: Renzo Balboa, Nai Ming Lai, Ryan Mitchell, John Shi; Design Lab (sound): Oliver Bown/Icarus: Fake Fish Distribution– Two Mbiras, Misfits – Dolphin Lylic (www.icarus.nu).
Collaborators: The University of Sydney 
Country: Australia
This projected light installation is an exploration of new digital media technologies to bring the amazing world that is the machinery inside cells to a broader public audience. Science and visual art come together in a collaborative project between staff and students at the University of Sydney. The installation showcases some of the many ways that single cells produce and respond to insulin using experimental microscopy data. This is current research performed in the laboratory of Professor David James at the University of Sydney's Charles Perkins Centre that is dedicated to easing the burden of obesity, diabetes, cardiovascular disease and related conditions through innovative research and teaching.