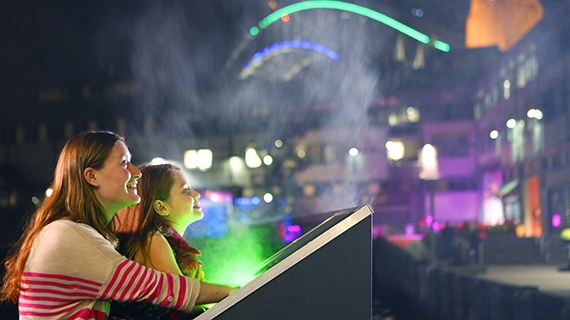 When:
22 May
-
08 Jun 2015
18:00 - Midnight
Location:
Walsh Bay, Sydney NSW 2000
Artists: University of Sydney Optics Student Chapter
Collaborators: Owen Brasier / Paul Sztajer/ Anitta Smith/ Paul Nunes/ Scott Brownless/ Caitlin Fisher / Blair Morrison / Angus Hamilton
Country: Australia
Laser Harp is an interactive and educational artwork that combines light and sound. Participants 'play' the harp's bright laser strings and in turn control the musical sounds and projections of the accompanying animation.
The foundations of the animation are Australian-themed backgrounds designed to represent both natural and suburban beauty. Each note played adds a dynamic piece to the backgrounds, allowing the scene to come to life. On a deeper level, the harp gently reaffirms that waves of all kinds surround us – in light, water, sound and matter.
Laser Harp was created by PhD students researching optics and photonics at the University of Sydney. The installation is a sophisticated learning tool designed to spread awareness and knowledge about the nature of light and its uses in everyday life.
It reinforces basic knowledge of physics and incites curiosity by demonstrating the fundamental links between frequency, colour, velocity, pitch, volume and magnitude.
The year 2015 is important for optics, as it is the UNESCO 'International Year of Light and Light-based Technologies' – an initiative aimed at creating awareness of photonics-based technologies around the world.