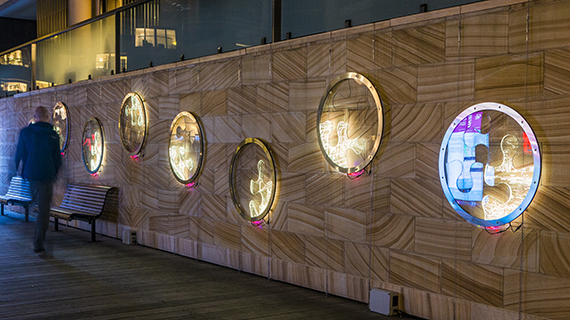 When:
22 May
-
08 Jun 2015
18:00 - Midnight
Location:
Campbells Cove, Sydney NSW 2000
Artist: Simon Grimes
Country: Australia
Jigsaw is a deceptively simple installation: a series of enigmatic images engraved on clear acrylic and suspended like portholes across the face of a sandstone wall. Each image is fractured and reassembled, like fragments of a jigsaw puzzle. The fragments are never simultaneously lit but fade in and out, apparently at random. The viewer is forced to stop, to watch, to revisit each image as it lights up, until they can build a mental picture of the whole.
From a distance it looks like giant jigsaw pieces glowing intermittently; close up it reveals details that the viewer can glimpse only briefly before they fade and a new fragment comes to life. The mental image formed, and its meaning, may draw on the cultural and social heritage of the viewer. Different interpretations are possible, even encouraged, but the pieces can be assembled only in one way.