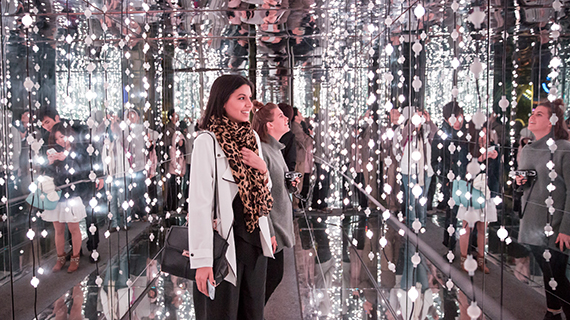 When:
22 May
-
08 Jun 2015
18:00 - Midnight
Location:
Hickson Road Reserve, The Rocks, NSW 2000
Artist: AJdesignCo. and Andrew Wilson
Country: New Zealand
Encased within a 6-m shipping container, Internal Galaxy is designed to allow each viewer to change what they see – and in doing so alter their perceptions of space. All sides of the container are mirrored, and a lattice comprising hundreds of multi-coloured LED Pixel lights is suspended from the ceiling. The lights continually play in unique sequences that move and ripple throughout the space. The effect is like being inside a kaleidoscope: the spectrum of light and pattern constantly changes and is reflected by the mirrored walls. The experience is psychedelic; the viewer's sense of the space alters dramatically, and the work appears as a portal to a futuristic world.