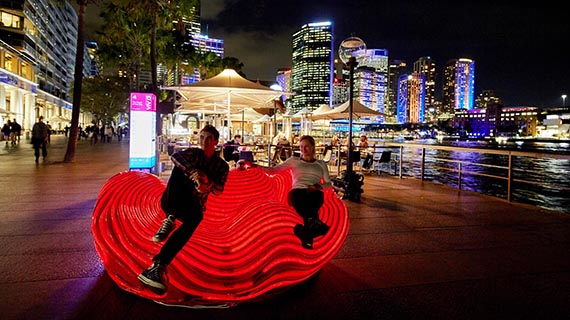 When:
22 May
-
08 Jun 2015
18:00 - Midnight
Location:
East Circular Quay, NSW 2000
Artists: Anaisa Franco
Collaborators: Aravinth Panchadcharam (India) / Nabhila Faetti (Brazil) / Annie McKinnon (Australia) / Farshad Fahimi (Iran)
Country: Germany
The Heart of the City is designed to be both a public artwork and a catalyst for interaction between people. Its undulating sculptural form includes areas in which viewers can take a seat and (quite literally) share with others what is in their heart. This is initiated when participants touch a pulse sensor that detects the rhythm of their heartbeat and responds by channelling a display of pulsating coloured light that illuminates the sculpture. When the sensor is left untouched, The Heart of the City reverts to its own illuminating rhythm.
Project hosted by Creativity and Cognition Studios, University of Technology Sydney.