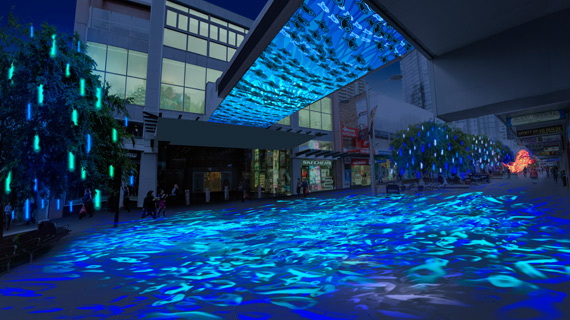 When:
22 May
-
08 Jun 2015
18:00 - 23:00
Artists: Ample Projects & 32 Hundred Lighting
Country: Australia
An immersive flowing river of light will cascade from the deep waters of Chatswood Interchange down the Chatswood Mall. 
Run freely through the water rippling on the ground and follow the waves in the trees. An ambient electronic water soundtrack will be heard as rolling waves pour through the frosted custom LED lighting overhead. Living in the river will be light sculptures of underwater characters who then come to life in The Nautilus and the Sea building projection animation at The Concourse.
Flowing River of Light incorporates the tidal flow of the Aquarium projection installation at the mouth of the river (on the Westfield overpass), and opens onto the Vivid Sydney at Chatswood night markets and the building projection installation on The Concourse.