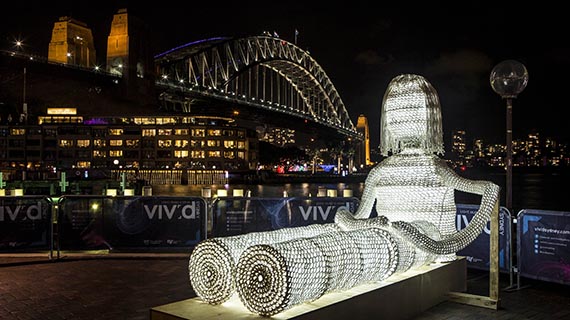 When:
22 May
-
08 Jun 2015
18:00 - Midnight
Location:
Campbells Cove, Sydney NSW 2000
Artist: Tina Fox
Country: Australia
Dolly is an immense, 3-m-tall light-up doll made entirely from crochet. She is out of her normal context and out of scale, creating an unusual addition to the urban landscape around Circular Quay.
Dolly was designed and handmade by local Sydney artist Tina Fox as a response to childhood memories of night-lights, bedtime dolls and soft teddies. The doll's extra long arms and huggable body beg to be embraced by both children and adults.
A UK-trained architect and artist, Fox enjoys pushing the limits of craft and sculpture to soften modern technologies and is always looking for new ways to create craft on an architectural scale and to drag it out of its innocuous domestic milieu. The artist aims to smash assumptions about handcrafting and to raise awareness of its potential in art.
Dolly is crocheted from 6-mm cotton rope using an extra large hook and is internally illuminated with metres of IP65 LED strip-lights, which cast a dim light through the woven structure. She looks beautiful in the daytime, concealing all trace of electronics and gadgetry, and then softly glows at night to draw attention from passers-by. She also provides the perfect photo opportunity – who could miss the chance to snap that all-important selfie with a giant Dolly?