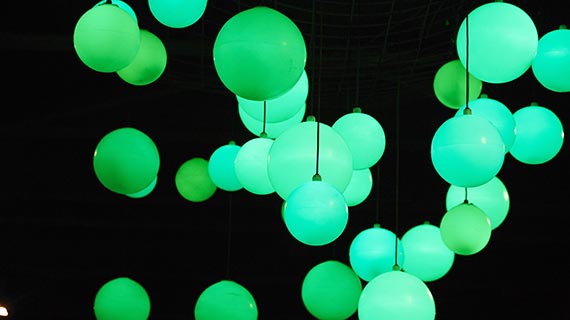 When:
22 May
-
08 Jun 2015
18:00 - Midnight
Location:
Circular Quay Station, Circular Quay, NSW 2000
Artist: AJdesignCo.
Country: New Zealand
Cloud is a collection of suspended orbs designed to gently sway in their surroundings, giving the illusion of a cloud-like cluster hovering in space. The orbs bounce ambient light around their site at Circular Quay, softly illuminating the surroundings and highlighting subtle textures.
Each globe is individually controlled to react to changes in colour and movement in the other orbs. Together they represent the constantly changing interactions of a weather system. Although situated outdoors on a busy site, Cloud creates an immersive interior experience through its simple and elegant design and memorable effects.