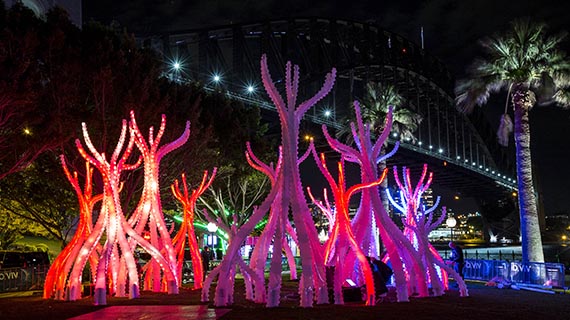 When:
22 May
-
08 Jun 2015
18:00 - Midnight
Location:
Hickson Road Reserve, The Rocks NSW 2000
Artists: Studio Workshop (Chris Knapp (Australia) / Jonathan Nelson (Australia)) + Matsys (Andrew Kudless (USA))
Collaborators: Bond University (Nathan Freeman (Australia) + Bollinger-Grohmann (Sascha Bohnenberger (Germany)) + Media Architecture Institute / UNSW (Matthias Hausler (Germany) / Eliot Rosenburg (Australia) / Rebekah Araullo (Australia) / Marius Hoggenmuller (Germany))
Country: Australia
Arclight is an architecturally designed, environmentally inspired structure that echoes the native mangroves of Australia's waterways. Through its complex geometry and architectural form, Arclight creates a dense thicket of clustered synthetic branch structures which incorporate interactive lighting technology programmed to interpret environmental conditions.
The project exploits experimental and cutting-edge architectural approaches: computer-aided manufacturing created by advanced fabrication methods, and computational software which provides designers with the digital tools to make buildings both complex and sustainable.
Arclight creates an immersive atmosphere of sculptural, bio-inspired forms that is intensified with LED lights programmed to interpret ambient and environmental phenomena (such as temperature, wind speed, and humidity), which are sensed and expressed via patterns and colours emitted by LED cells.