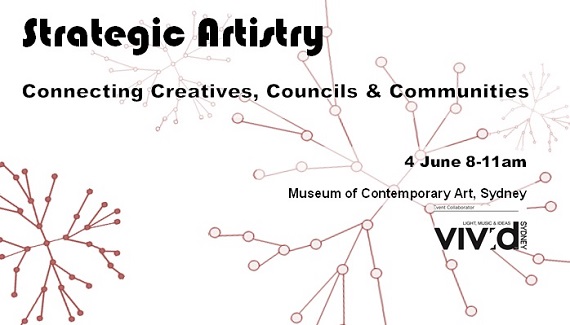 Location:
Vivid Ideas Exchange, Museum of Contemporary Art, Australia, Level 6 Terrace Entrance (Circular Quay West Side), Sydney NSW 2000
The arts and culture sector is a mosaic of organisations, industries, private and public services. What is your purpose and where is your niche? Where do you fit in the scheme of things? How do you engage and collaborate? Which organisations are aligned with what you seek to deliver? How can you effectively work together? Have you considered councils as a partner? It's a great opportunity given each year councils invest $436m in NSW and $1,397.6m nationally, in arts and cultural services, programs and venues (Australian Bureau of Statistics).
While you could deliver creative initiatives in your own capacity, there are numerous opportunities and resources available through collaborations. Ultimately, by establishing relationships based on common ground, we can leverage further reaching outcomes for and with communities.
This seminar will:
Guide you through a strategic framework to further develop your own collaborative strategy
Provide strategic context across the industry, including relevant plans, policies and strategies to identify where you align.
Identify key organisations leading and supporting the sector, including capacity building, funding and partnership opportunities.
Identify solid leads to activate your initiative.
Bring together a diverse mix of people looking to collaborate, so the two hour seminar will be followed by both guided and informal networking, as we savour coffees and the harbour views.
Audience/Connecting
People with ideas for creative initiatives
Arts organisations
Services providers
Creative industries
Councils
Creative practitioners
Community organisations
Industry leaders
Government representatives
Educators
Students
Those looking to enter the industry