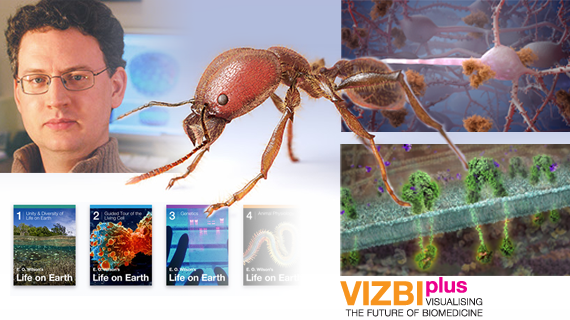 Location:
Charles Perkins Centre Auditorium, The University of Sydney, NSW 2006
Today's high school biology students will be tomorrow's scientists, explorers, and environmental policy makers. To prepare them for their work, a team led by naturalist E.O. Wilson created the iBook series 'Life on Earth'.
Presented by VizbiPlus, this event brings scientific animator Gaël McGill, who led a team of 3D animators and multimedia artists, to Sydney, to show you how they created the multimedia components of this revolutionary iBook - a digital textbook for the 21st Century.
Next in the program is the Sydney premiere of the latest biomedical animations from the Australia-based VizbiPlus project. Then we present the finalists in the VizbiPlus Challenge - mixing artwork inspired by science with science re-imagined as art.
Finally, if your own work bridges art and science, we want to hear from you! Submit an image and a short description of your work, and you could give a 30-second flash-talk as part of the event.
To participate, go to vizbi.org/plus/events.
*$4 Booking fee and 2.25% transaction fee applies. POWERED BY THE TICKET GROUP.