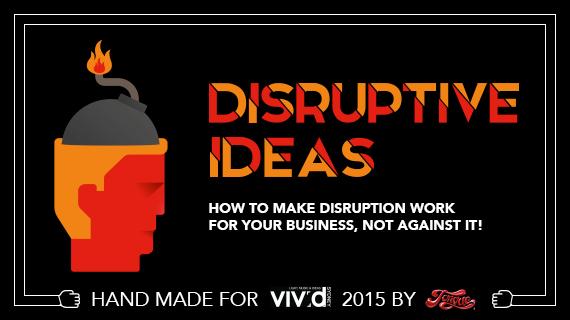 Location:
Vivid Ideas Exchange, Museum of Contemporary Art, Australia, Level 6 Terrace Entrance (Circular Quay West Side), Sydney NSW 2000
Calling all entrepreneurs, startups and big businesses that want to stay ahead. The word 'disruption' is thrown around a lot these days at the water cooler and in the boardroom. Business gurus are telling us we must change our mindset to be more 'disruptive' and ultimately create 'disruptive business models' to survive. Easy to say, hard to implement. In this session we're going to define what it actually means to be disruptive, show you the quantifiable business reasons to be disruptive and give you the tools to implement disruptive thinking into your business tomorrow.
The session will be led by Tongue's Managing Partners - Jonathan Pease and John Du Vernet. The session will also feature a collection of A grade speakers from across the cultural landscape.
The session will cover a lot of ground with focus on these key areas:
1. Why everyone is talking about disruptive ideas and business models
- Financial impact
- Brand impact
- Why technology unlocks new opportunities
- The cultural effect
2. How it's changing the business landscape globally
- The stats and the dollars
- Case studies (projects we've worked on and other global examples)
3. Why you must become a disruptive thinker and doer
- New mindset
- New structure
- Daily practice
4. Tools and techniques
- An interactive session designed to give you the tools you need change your business tomorrow
*********************************************************
*$4 Booking fee and 2.25% transaction fee applies.
All proceeds will be donated to Cure Brain Cancer Foundation (www.curebraincancer.org.au)
POWERED BY THE TICKET GROUP.
*********************************************************