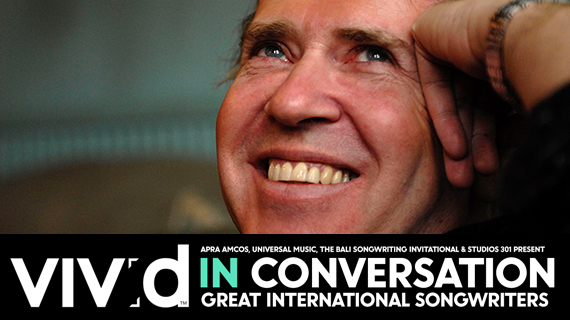 Location:
Studios 301 - 18 Mitchell Road, Alexandria, NSW 2015
Meet the songwriters that have brought you some of the biggest pop hits in the world. Join an amazing array of international songwriters as they talk about the journey of a song and their experience of songwriting. 
Presented by APRA AMCOS, Universal and the Bali Songwriting Invitational, this panel features:
•Steve Lillywhite - has produced songs for the likes of U2, The Rolling Stones and The Killers
•Audra Mae -singer, songwriter, performer.  Audra Mae is a versatile writer penning songs for a variety of artists from Susan Boyle and Celine Dion to recent singles from Avicii ft Audra Mae, Kelly Clarkson's current single "Heartbeat Song" and Miranda Lambert Grammy performed song "Little Red Wagon."
•Nash Overstreet - songwriter/guitarist in multi-platinum selling band Hot Chelle Rae
Learn about their songwriting techniques and gain an insight into the secrets behind what it takes to top the charts. Plus, you'll also have the chance to ask the panellists any burning questions you may have about how to write a great pop tune. 
Moderated by Michael Taylor, Managing Director of Universal Music, this is a not-to-be-missed event for 2015 VIVID LIVE. 
After the panel discussion, there will be an informal networking opportunity. Join us at Studios 301, an inner-west recording studio - the perfect atmosphere for an evening of songwriting discussion and inspiration. 
This event is free but spots are limited and must be booked in advance.