Short description
You'd recognise that legendary grin anywhere. The smiling face of Luna Park has been looking out over Sydney Harbour since 1935. It's the place generations of Sydneysiders have come for fun and games, thrills and spills, all perched on the edge of Sydney Harbour and in the shadow of Sydney Harbour Bridge. 
1 Olympic Dr
Milsons Point NSW 2061
Australia
There's something for everyone from the heritage listed Coney Island, full of slides and retro carnival classics, to the games of Sideshow Alley and the heart-pumping thrill rides. Luna Park closed in 2021 to install nine new rides including roller coasters, a Ferris wheel for kids and the return of the iconic Big Dipper. Wander through the park and be entranced by the sparkling lights, roving street performers and atmosphere of pure joy.
Luna Park's unparalleled position on the northern shore of Sydney Harbour makes it the perfect location for Vivid Sydney. See the new lighting installations especially for Vivid Sydney, hear music in unique performance spaces or catch the Ferris wheel and get a bird's eye view of the technicolour city.
How to get there: Milsons Point Wharf is right in front of the gates of Luna Park and it's just a 10-minute ferry ride from Circular Quay. You can also catch a train or bus to Milsons Point Station and take the short walk down to the waterfront.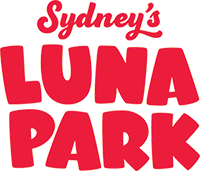 Music Events
Roll up! Roll up! After a long lockdown-induced hiatus, Heaps Gay reimagines their annual Qweens' Ball as a carnival of unearthly delights. Get out the...
Mobile Image
Location:
Luna Park
Price:
From: $45.00
*Aus Mainland Exclusive* With special guests Party Dozen Legendary British space-rock act Spiritualized is back in orbit, spreading the swirling...
Mobile Image
Location:
The Big Top, Luna Park
Price:
From: $89.00