Vivid Sydney, For Your Creative Mood
Hello there festival-goer. Welcome to MoodUP by LG, the perfect way to personalise your Vivid Sydney experience. From the curious to the chilled, the adventurous to the creative, MoodUP by LG celebrates our relationship with colour.
Arrived before taking MoodUP by LG Quiz? Explore where your mood will take you and find your ultimate Vivid Sydney itinerary at vividsydneyquiz.moodupbylg.com.au. Be sure to illuminate your path forward – save your itinerary to MyVivid, or view your Augmented Reality itinerary on your smart phone.
Your MoodUP by LG is Creative.
You're all about artistry, imagination and innovation. Keen to be inspired, you're open to examining the quirky and engaging with different perspectives.
Start your creative journey painting with water along The Goods Line, spin out with a perception-changing light installations, open your senses with live music and transform the city with blooming streetlights.
The Goods Line
Unleash your inner artist at Ultimo's The Goods Line - or just have a scribble. Part dishu, part 'Etch A Sketch', Waterlight Graffiti is a large electronic blackboard you can 'paint' with water, each stroke immediately transforming into light. Whatever your creation, it'll shine bright for minutes, before it fades to make way for a new 'layer' of graffiti.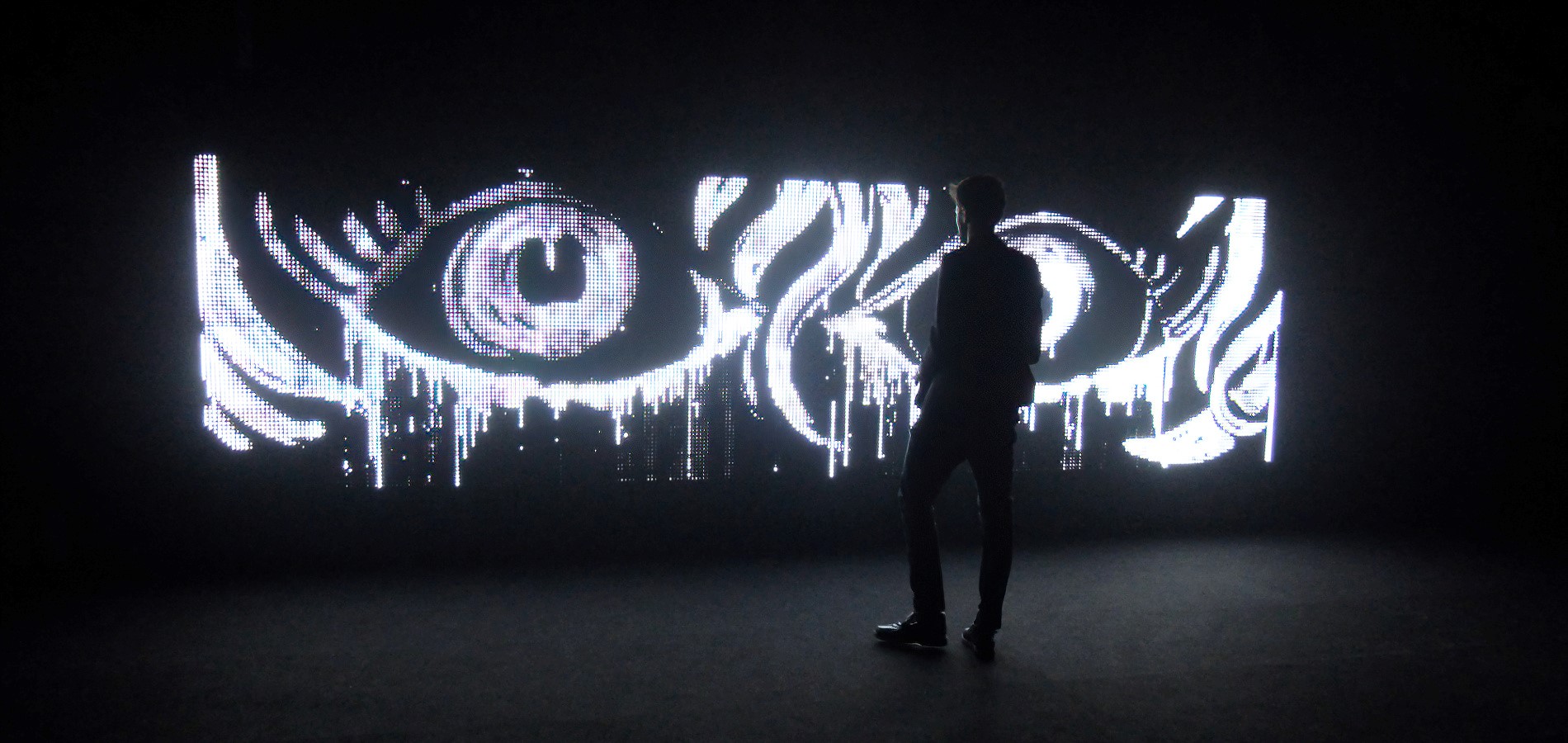 Just a stroll away is Kinetic Perspective, a throwback to the 'seeing eye' illusions of the 1960s. A row of 32 illuminated spinning circles, with each circle moving in sync with one other, this deceptively simple work plays with our perception as circles continually disappear and reappear.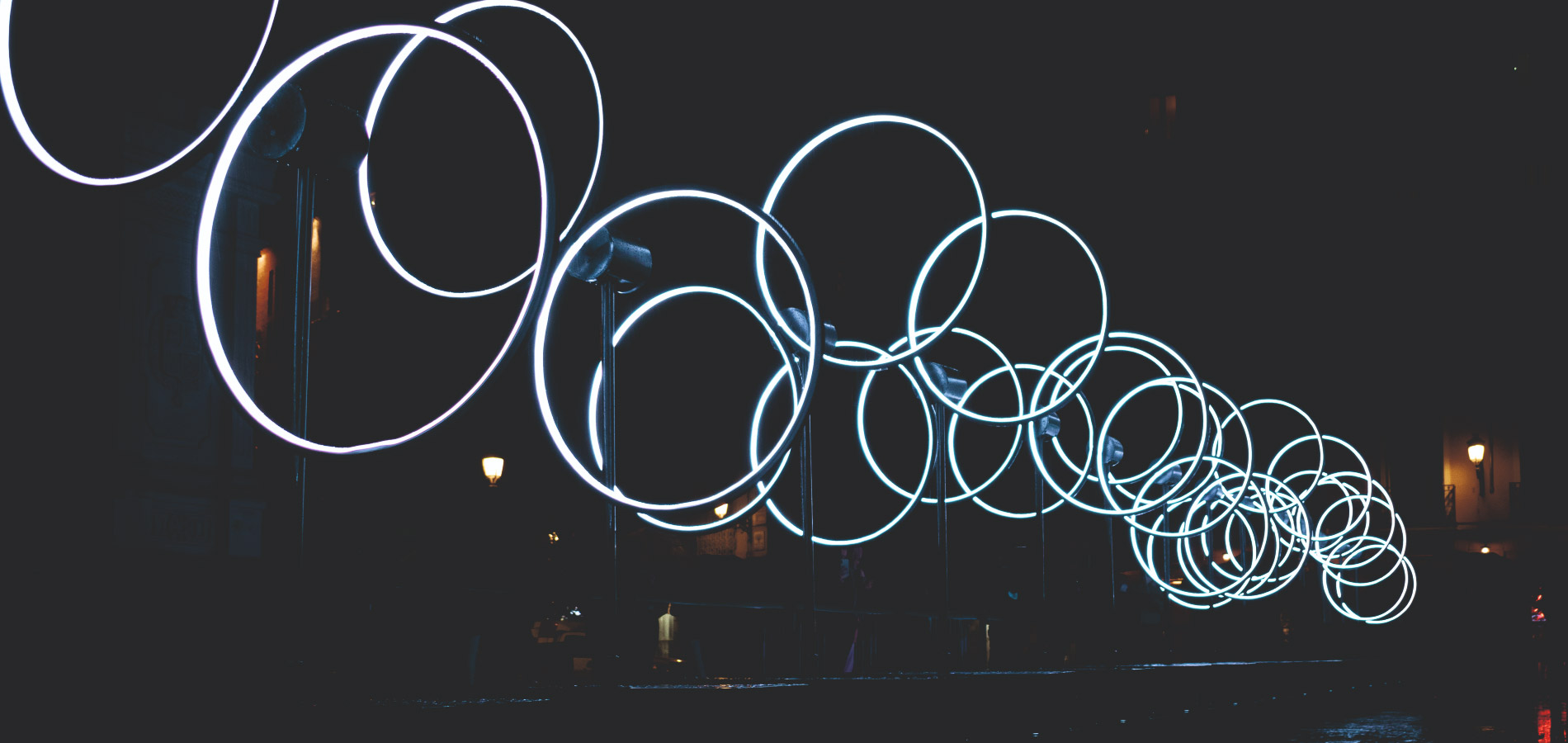 Darling Harbour
Follow the Vivid Light Walk towards Darling Harbour and you'll come across River Mouth outside the Chinese Garden of Friendship. Created by Sydney artist Emma-Kate Hart, this clever artwork takes inspiration from the bizarre but common phenomenon of 'pareidolia' – the tendency to see patterns, animals or faces in inanimate objects and nature. What we're actually looking at is a topographic map of where Paramatta River meets Sydney Harbour, charting its relief (aka vertical elevations). But even with the explanation, we still can't help but see ourselves in the artwork.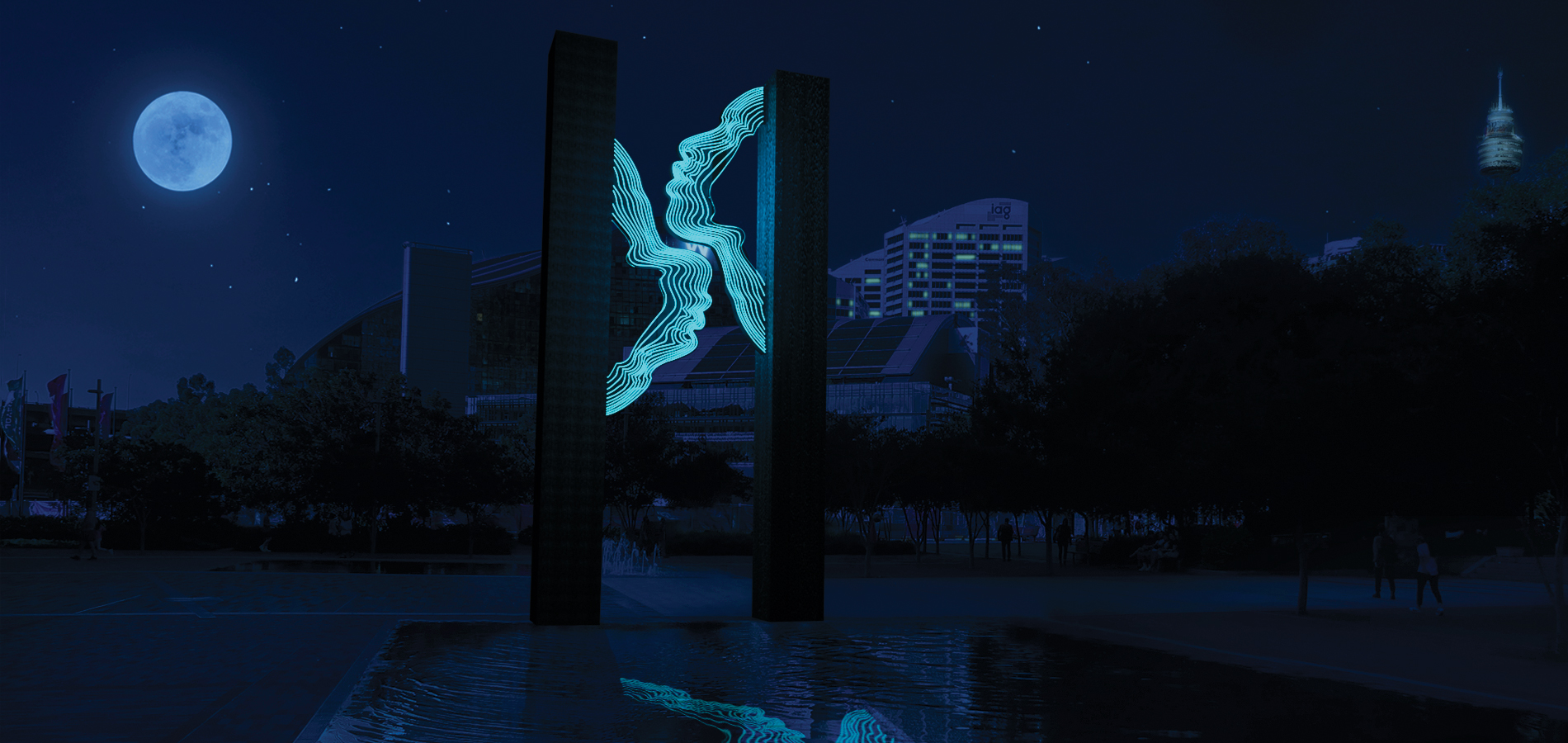 Next up, head towards the tunes at Tumbalong Park. For the entirety of Vivid Sydney, the park is home to Tumbalong Nights – 23 nights of FREE music, with an all-star lineup spanning Africa to Arnhem Land on Thursdays to Saturday (plus Sunday 11 June) and local DJs keeping the vibes high Sunday to Wednesday and . Will you boogie to Sunshine and Disco Faith Choir, sway all night to Hatchie, or catch the monumental Yothu Yindi?
King Street Wharf
After the gig, pique your curiosity with two fun artworks. Over on King Street Wharf, a set of streetlights wait for you to approach – then, they come alive. Called Bloomlight, these four-metre 'streetlights' light up, bend towards you and open up the closer you get, excited by your presence.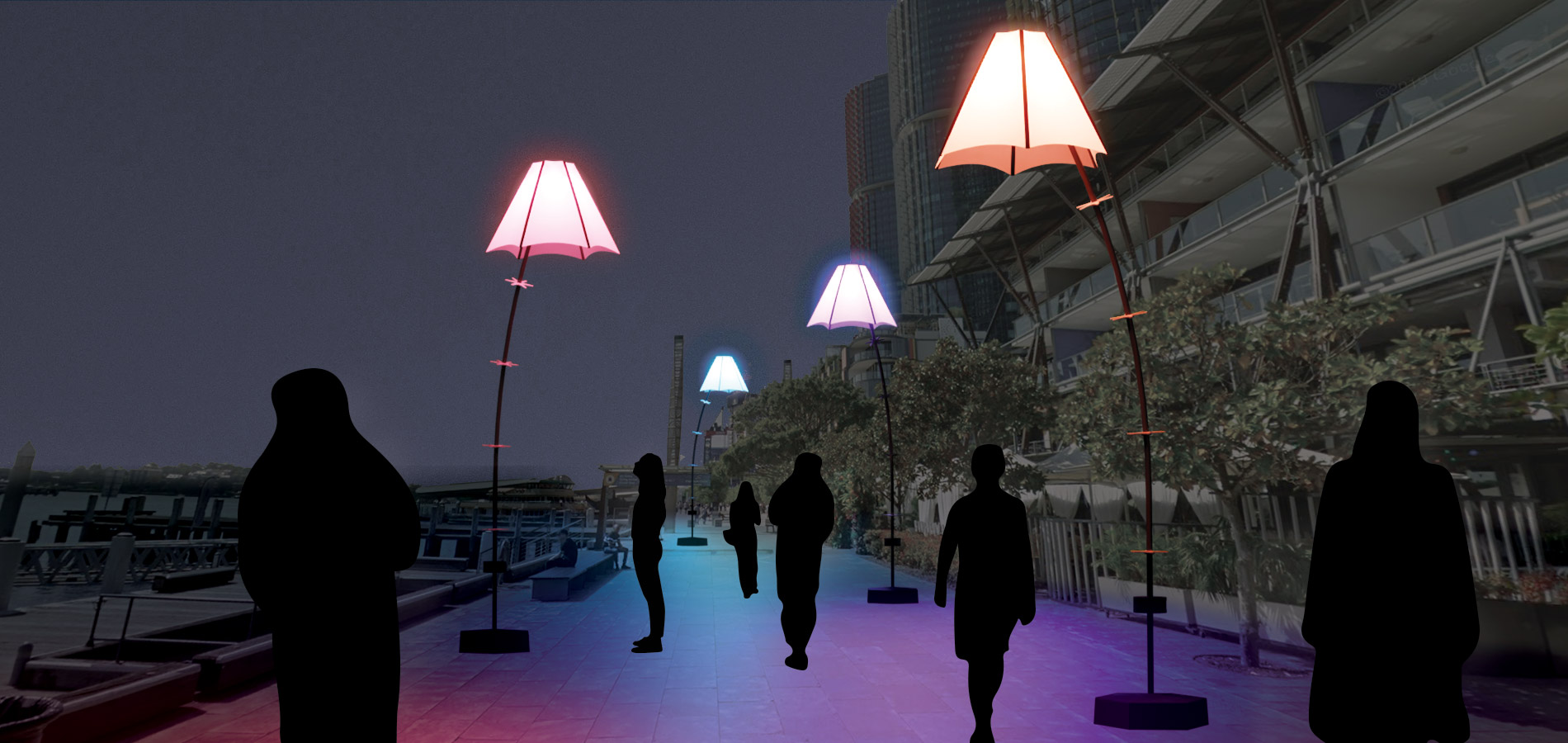 And over at Watermans Cove, a school of fish are leaping out of the water so fast, they resemble streaks of light, in the aptly named Fish Are Jumping. There? Did you see it? Keep watching – listen out for a warning sound, and see how many fish you can count!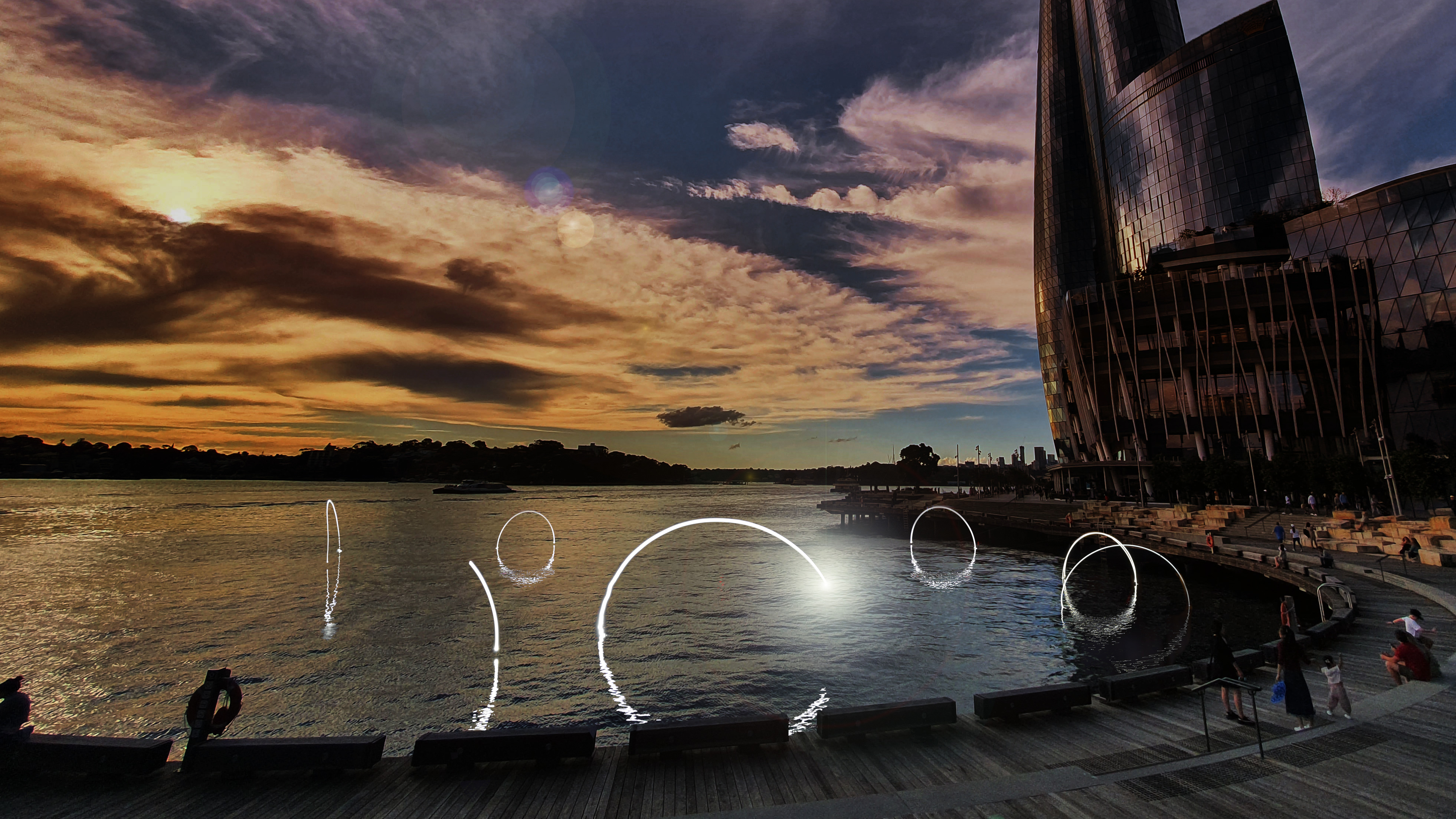 Look at you go! You brought your unique energy to Vivid Sydney. Add this itinerary to our interactive map by logging into MyVivid and clicking the heart.
Light your path
Use the link below to access your Augmented Reality Creative Itinerary when you get to The Goods Line to charge your mood through Vivid Sydney.