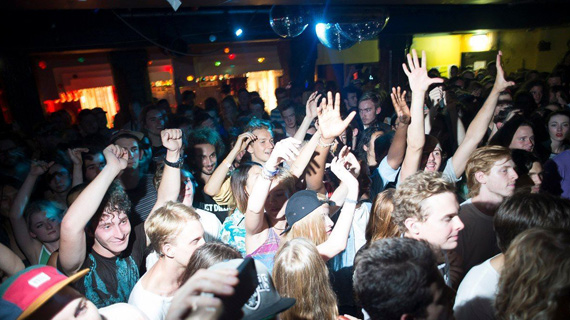 When:
22 May
-
08 Jun 2015
19:00 - Late
Location:
53-55 Liverpool Street, Sydney NSW 2000
Goodgod is a subterranean tropical oasis right in the middle of the CBD. It's a place to enjoy after work drinks as much as it is a tasty late night dinner, or to enjoy some live music and a loose limbed dance!
The Front bar that brings out some of Sydney's finest purveyors of music and spinners of records DJ-ing late into the night, with an extensive range of drinks to suit any palate and budget. The Front Bar is also Sydney's first dedicated home of Bao, with Belly Bao's signature steamed buns and mouth-watering fillings, like slow roasted pork belly, soft shell crab, crispy taco offered along side sweet potatoes fries, slaw and fried chicken. Belly Bao is pushing the boundaries on this traditional Taiwanese street food bringing foodies from all over the city to sample the newest food trend, it's boa time!
Out the back, Goodgod's famed Danceteria is in an intimate taverna-style live music venue and dance floor with some of the world's most exciting acts coming through, everyone from Jamie XX, Four Tet and Thom Yorke, to Jack Ladder and the Dreamlanders, The Preatures, Seekae and Cloud Control. It's a home for Sydney's creative community and anyone in search for a reliably feverish dance floor and incredibly curated music, a one stop fun house for you to enjoy the night.