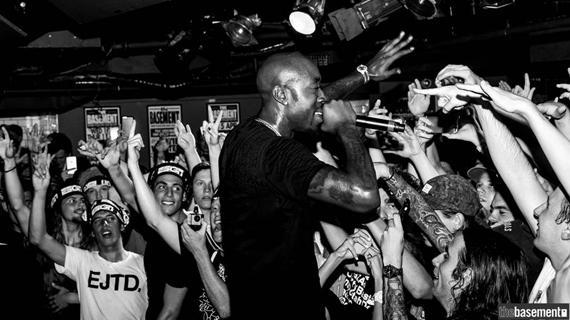 Location:
The Basement, 7 Macquarie Place, Circular Quay NSW 2000
The Basement takes it live from centre stage 6-7 nights of the week with acts including The Funkoars, Jane Tyrrell, Bad Plus and Miguel Zenon Quartet with Jazzgroove Mothership Orchestra, Richard Bona, Kilter and more.
You can come along just for the music or you can make a proper night of it by taking in both dinner and show where, included in one price you get entry to some hot music, and an excellent 2 course meal (depending on the show mode). There are also great menus available at the Upstairs Bar, or downstairs at the newly renovated Green Room Bar if you're feeling peckish! So, instead of worrying about whether you can manage to fit in a meal at a restaurant somewhere else and get to the show on time, you can make life and your evening simple by doing it all in one place.
 
If you want to know what's on you can check it out here, email us at info@thebasement.com.au, or call us on 02-9251 2797.
 
In the heart of Sydney's CBD, there aren't too many businesses – especially in the entertainment and hospitality field – that can claim over 40 years in existence.
 
With an international reputation for providing the finest in both local and overseas music to Sydneysiders 6-7 nights a week, the line up of 'greats' to have graced the stage is too exhaustive to list completely but over the years has seen the likes of:
 
Art Pepper
 Bill Evans
 Dizzy Gillespie
 Ed Kuepper
 Eric Bibb
 FourPlay
 Freddie Hubbard
 Fruit
 Galapagos Duck
 Georgie Fame
 Glenn Tilbrook
 Harry Manx
 Herbie Hancock
 Idea of North
 James Morrison
 Jeff Duff
 Jimmy Barnes
 Jimmy Little
 Jimmy Webb
 Johnny Griffin
 Joshua Redmond
 Kasey Chambers
 Keith Urban
 Kinky Friedman
 Kurt Elling
 Marcia Hines
 Mick Hart
 Mick Thomas
 Paul Kelly
 Prince
 Ralph McTell
 Renee Geyer
 Taj Mahal
 Tex Perkins
 The Whitlams
 Tim Finn
 Tommy Emmanuel
 Tony Joe White
 Vince Jones
 
and, as they say in show business, many, many more.
 
But The Basement is more than just a venue to tickle your musical fancy. Aside from the main music and restaurant area, are 2 separate bars, the Blue Note and The Green Room where you can take in a post work drink, grab a  meal or just relax and chat with your mates over a cocktail or coffee.