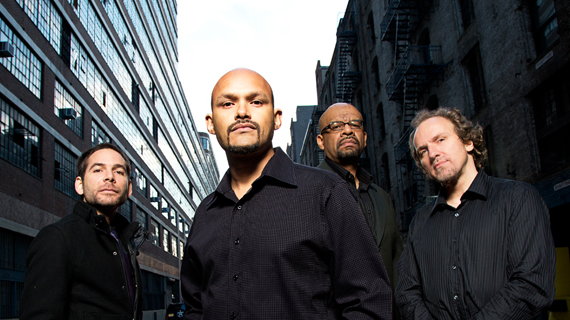 Location:
The Basement, 29 Reiby Place, Sydney, NSW 2000
Following on from their recent Sold out Sydney Festival appearance, the Jazzgroove Mothership Orchestra teams up with Miguel Zenon, one of the worlds most celebrated saxophonists and his quartet from New York for a concert of epic proportions.
Blending the often contradictory poles of innovation and tradition, Miguel Zenon has a unique voice as a composer and conceptualists, marrying the rich traditions of Latin American folkloric music and jazz.
Widely considered amongst the most ground breaking and influential saxophonists of his generation, Zenon topped both the Jazz Artist of the Year and Alto Saxophonist categories on the 2104 Jazz Times Critics Poll.
Zenon's work is inspired by themes of cultural identity and place, seamlessly fusing irresistible rhythms with intricate orchestral arrangements. Dynamic, audacious and intensely powerful, the six-part orchestral epic will be reimagined by Sydney's Jazzgroove Mothership Orchestra and Zenon's own long-time quartet, featuring some of the leading musicians in contemporary jazz.
Since its inception in 2003, the ARIA nominated and 2012 Australian Jazz Award winning Jazzgroove Mothership Orchestra (JMO) has gained a reputation as one of the world's most exciting and innovative independent jazz orchestras. Comprising 17 members playing 5 saxophones, 5 trumpets, 4 trombones, guitar, piano, bass and drums, 'The Mothership' represents many of Australia's finest improvisers and beams out a supernova of energy and sound. The JMO is on a mission to blur the boundaries between jazz, rock, classical delivered through the dynamic, rhythmic and textural context of a jazz orchestra.
Miguel Zenon (sax/composer) Luis Perdomo (piano) Hans Glawschnig (bass) Henry Cole (drums)
David Theak, Murray Jackson, Evan Harris, Matt Keegan, Steve Fitzmaurice (saxophones)
Darryl Carthew, Dane Laboyrie, Andy Fiddes, Simon Ferenci (trumpets)
Dave Panichi, Ben Gurton, Justin Kearin (trombones)
CONCERT DETAILS
Date: Thursday June 4, 2015
Venue: The Basement, 7 Macquarie Pl, Circular Quay
Cost: $45 (full) | $35 (concession) | $25 (students) + booking fee