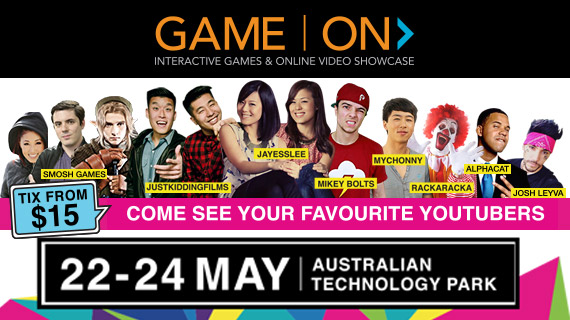 Location:
Australian Technology Park, Locomotive St, Sydney
MEET YOUR FAVOURITE YOUTUBE, GAMING & CREATOR CELEBRITIES FROM ACROSS THE GLOBE.
GO TO WWW.GAMEONINTERACTIVE.COM.AU
Game ON is the FIRST EVER event of its kind in Australia and is designed for anyone who goes online! Whether you're into online gaming, social media, YouTube videos, vlogging, creating or developing, game on has something for you.
Listen to visionaries; participate in workshops, watch a performance; compete against your friends in the e-sports competition or simply connect with likeminded people.
If you're not at Game ON, you're missing out! Australian Technology Park Locomotive Street Eveleigh, NSW
Friday Twilight 3:00pm - 7:00pm
Saturday 9:00am - 6:00pm
Sunday 9:00am - 6:00pm
********************************************************* *
$4 Booking fee and 2.25% transaction fee applies. POWERED BY THE TICKET GROUP.
*********************************************************