Must See Vivid Sydney Light Displays
21 May 2018
Vivid Sydney is back for another year of light, music and ideas that will delight and surprise spectators across Sydney and around the world. 
This year will mark the 10th anniversary of the festival, and in true Vivid Sydney fashion, there's lots of surprises in store for revellers! Vivid's Light events are a huge highlight, with a plethora of light installations, light sculptures and technicolour lights filling Sydney's landmarks with beautiful colours in celebration of art, community and technology. 
Check out these must-see light displays set to wow at Vivid Sydney 2018 and start planning your Vivid Light walk.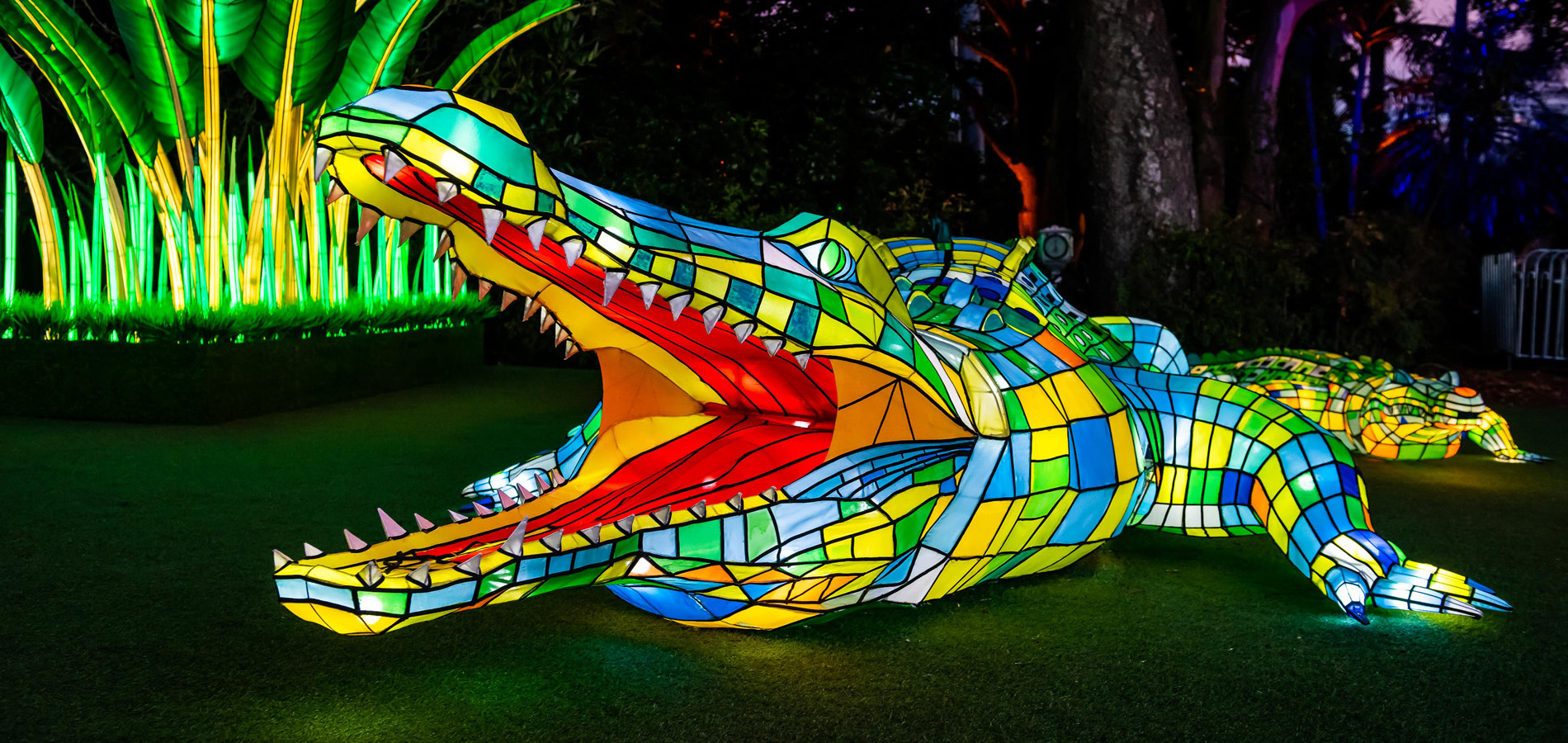 Held at the famous Taronga Zoo, Lights for the Wild showcases massive animal light sculptures, each with an important story to tell about conservation. Open to the public each evening throughout Vivid Sydney, the display promises to be even bigger this year, and visitors will get the chance to take part in a fully immersive show. Meet ferocious creatures and shimmering aquatic life, explore the Taronga Centenary Theatre and grab a bite under the stars at the Taronga Food Market.
Ticketed event, for more info click here.
25 May - 16 June
Session 1: 5.30pm
Session 2: 6:30pm
Session 3: 7.30pm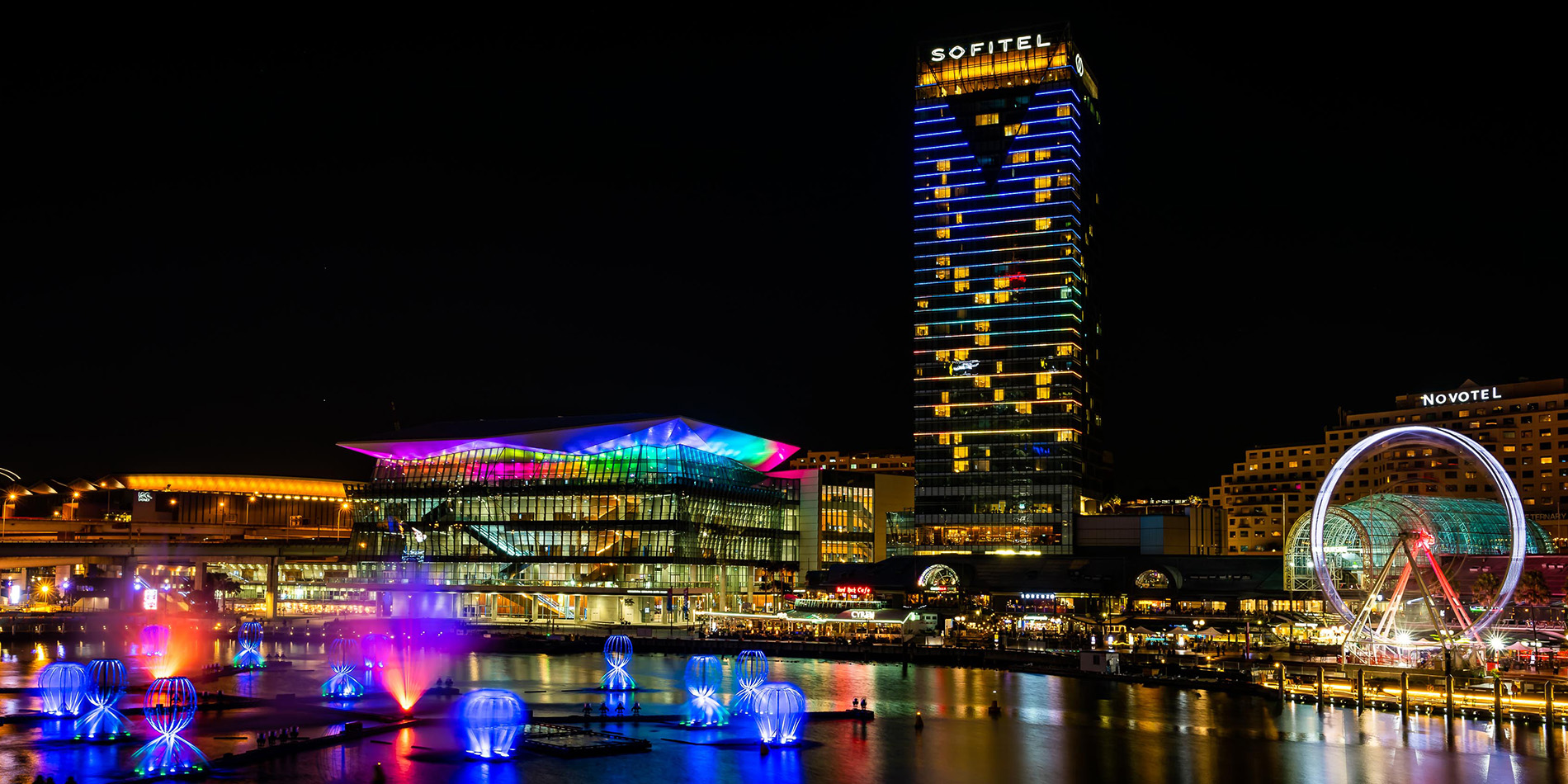 Darling Harbour is set to come alive as Fantastic Oceans lights up the waters of Cockle Bay. Created by Oracle Liquid, the stunning projection tells the story of bioluminescent creatures from the deep, with water features that bring jellyfish and deep-sea flora above the surface in spectacular fashion. Take an underwater stroll through the harbour and be amazed by striking silhouettes of magnificent deep sea creatures, lasers that create rippling ocean waves and dreamy overhead lighting displays.
Free event, for more info click here.
25 May - 16 June, 6pm - 11pm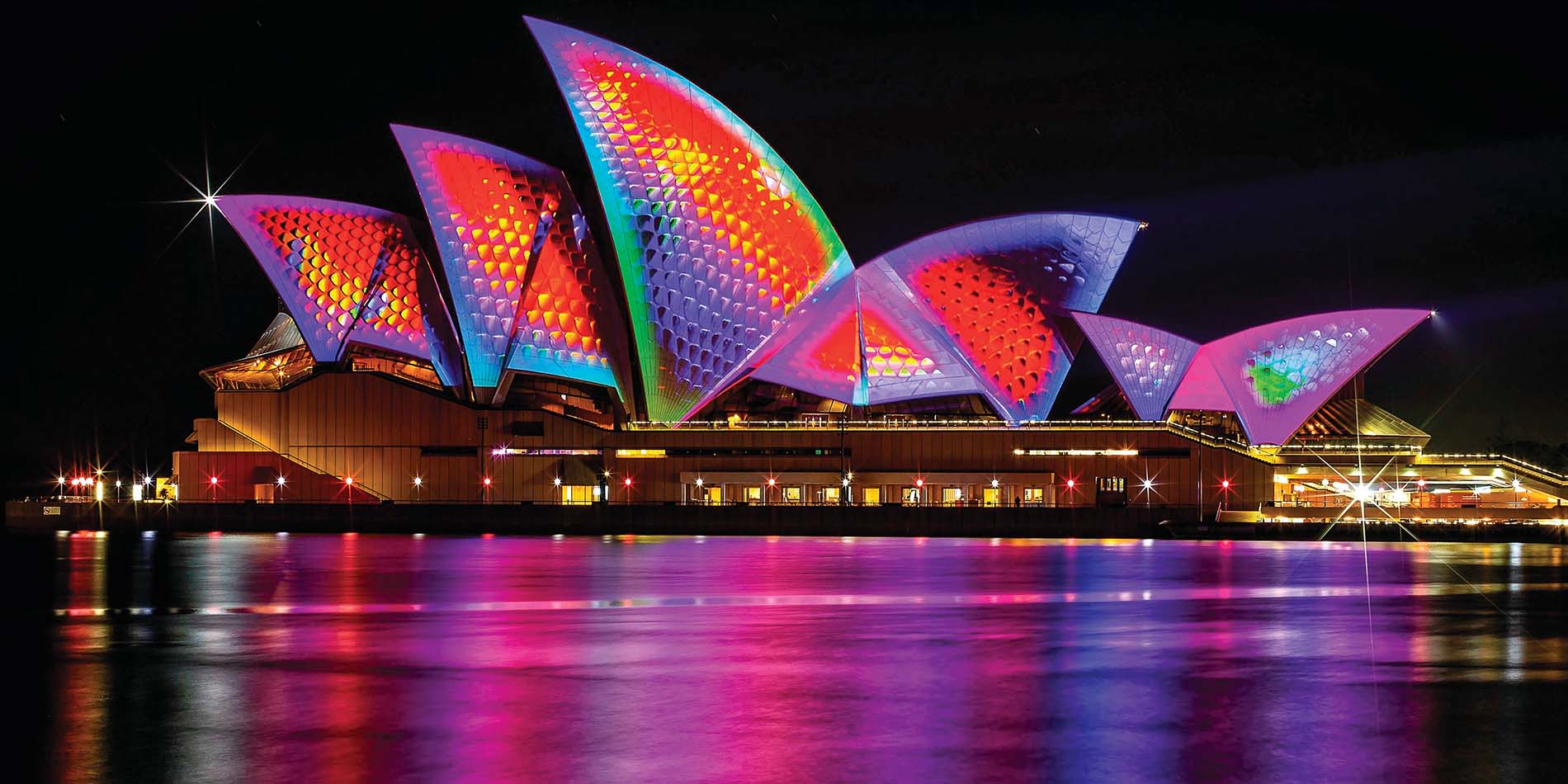 Head to Circular Quay to experience the Lighting Of The Sails, a dazzling light show that sees the sails of the Sydney Opera House fill with glorious colour. Beginning at 6pm each night, the installation emits glowing imagery across the waters of Sydney Harbour from Sydney's most iconic landmark. This year's artist Jonathan Zawada's concept for the installation uses imagery inspired by the Australian environment. The influential artist will present bold neons and unique geometric shapes with a range of intriguing digital sculptures that distort and mutate, evolving and dissolving in a continuous flowing motion. The award-winning artist has worked with a number of famous Australian and international artists, including The Presets and Flume.
Free event, for more info click here.
25 May - 16 June, 6pm - 11pm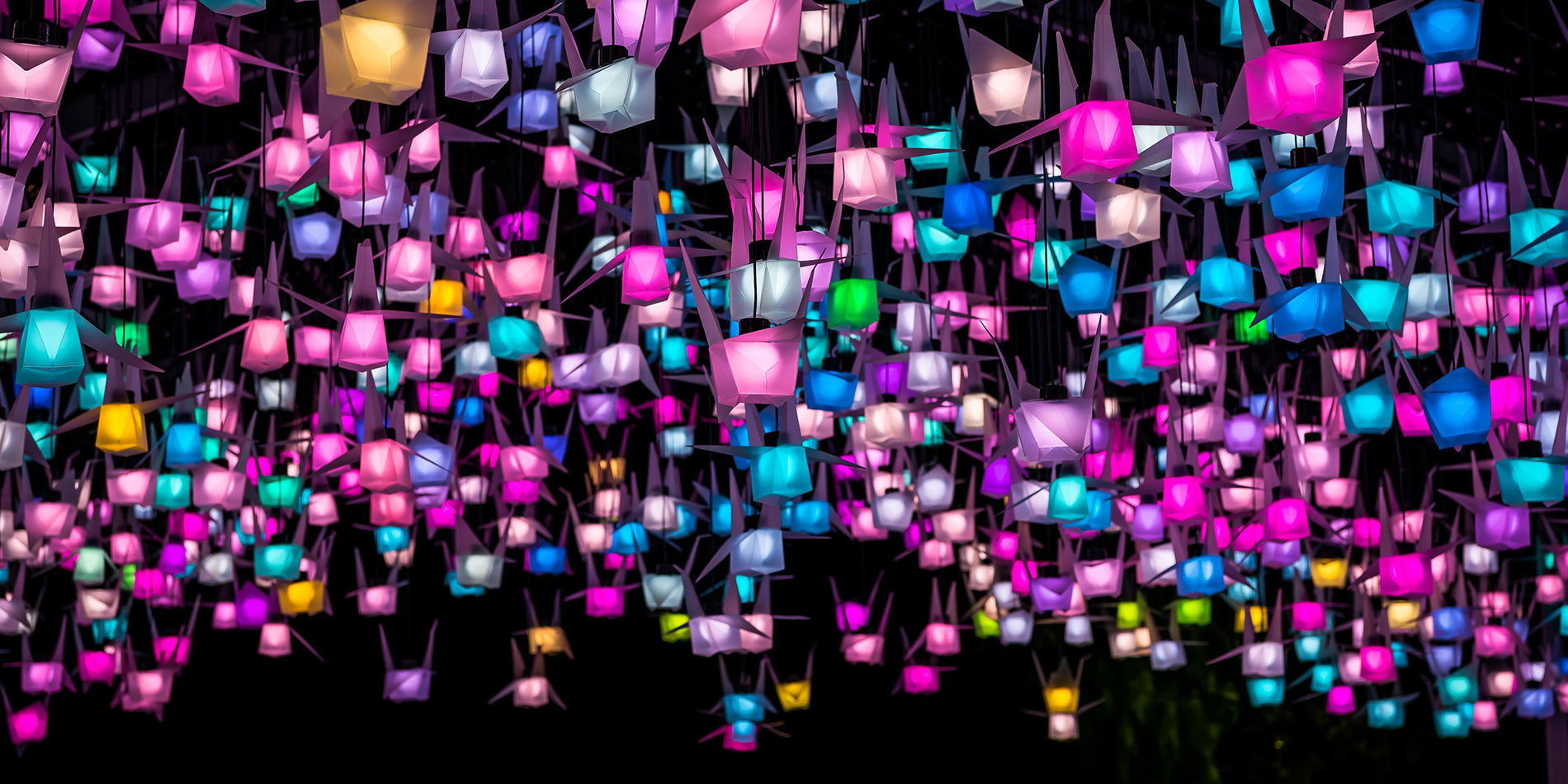 Make your way to the weaving sandstone lanes of The Rocks to discover 1000 Cranes, a beautiful, futuristic twist on Japanese origami. Created by Ambient & Co, 1000 Cranes is an electric canopy of 1000 hanging origami cranes that shine brightly as crowds stroll under their shelter. The installation is based on the ancient Japanese legend of Hope - Senbazuru, which is symbolised by the folding of 1000 origami cranes.
Free event, for more info click here.
25 May - 16 June, 6pm - 11pm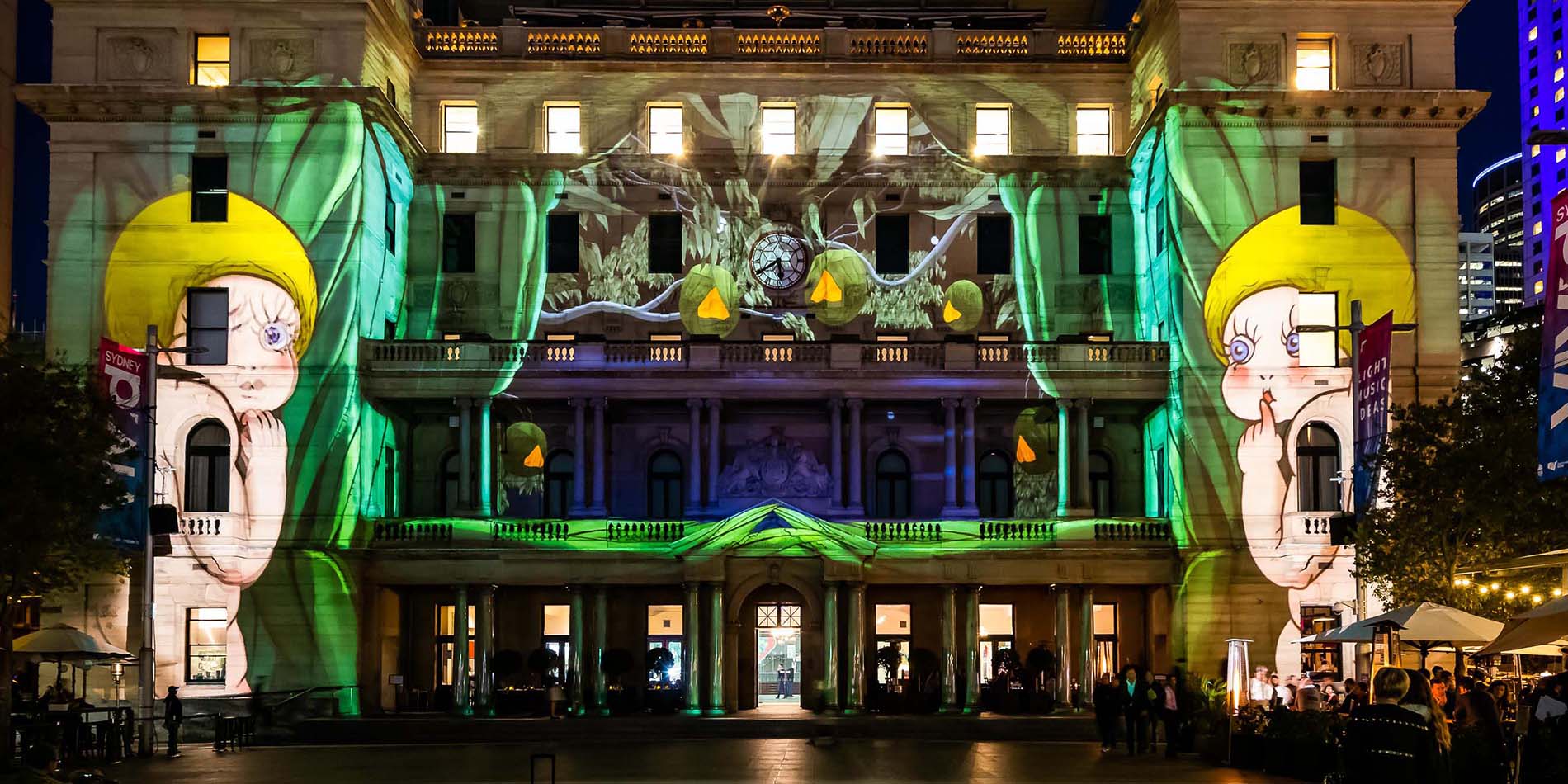 Gather around the historic Customs House to see Australian childhood favourites Snugglepot and Cuddlepie star in a playful display based on the book by May Gibbs. Brought to life by acclaimed art and animation collective Ample Productions, the lively projection focuses on the Gumnut Babies and their adventures. See the heroes battle the evil Mrs Snake and more as they journey through the Australian Bush - all on the front of the famous 1845 building.
Free event, for more info click here.
25 May - 16 June, 6pm - 11pm
Enter the mesmerising electric forest of the Royal Botanic Gardens Sydney through the QEII gates and get ready to be amazed by vibrant displays of colour and glowing woodland life. Follow the illuminated pathway to explore Nautilus Forest, a spiralling, dense forest that is filled with installations made to trick the brain. Designed by Adrienn Lord for Mandylights, the forest's trees ripple and pulse with colour, almost breathing in the night air. Swaying branches that could be brightly-coloured coral, or even some form of forest-dwelling animal!
Free event, for more info click here.
25 May - 16 June, 6pm - 11pm
See the famous heritage building Cadmans Cottage be transformed into a fantastical BALLpit - a virtual space where you can swim, jump and dance through rooms filled with thousands upon thousands of toy balls. Dodge and weave your way through the mass of brightly coloured, responsive balls designed to move with you. A truly unique Vivid Sydney experience, this fantasy virtual tour is not one to be missed!
Free event, for more info click here.
25 May - 16 June, 6pm - 11pm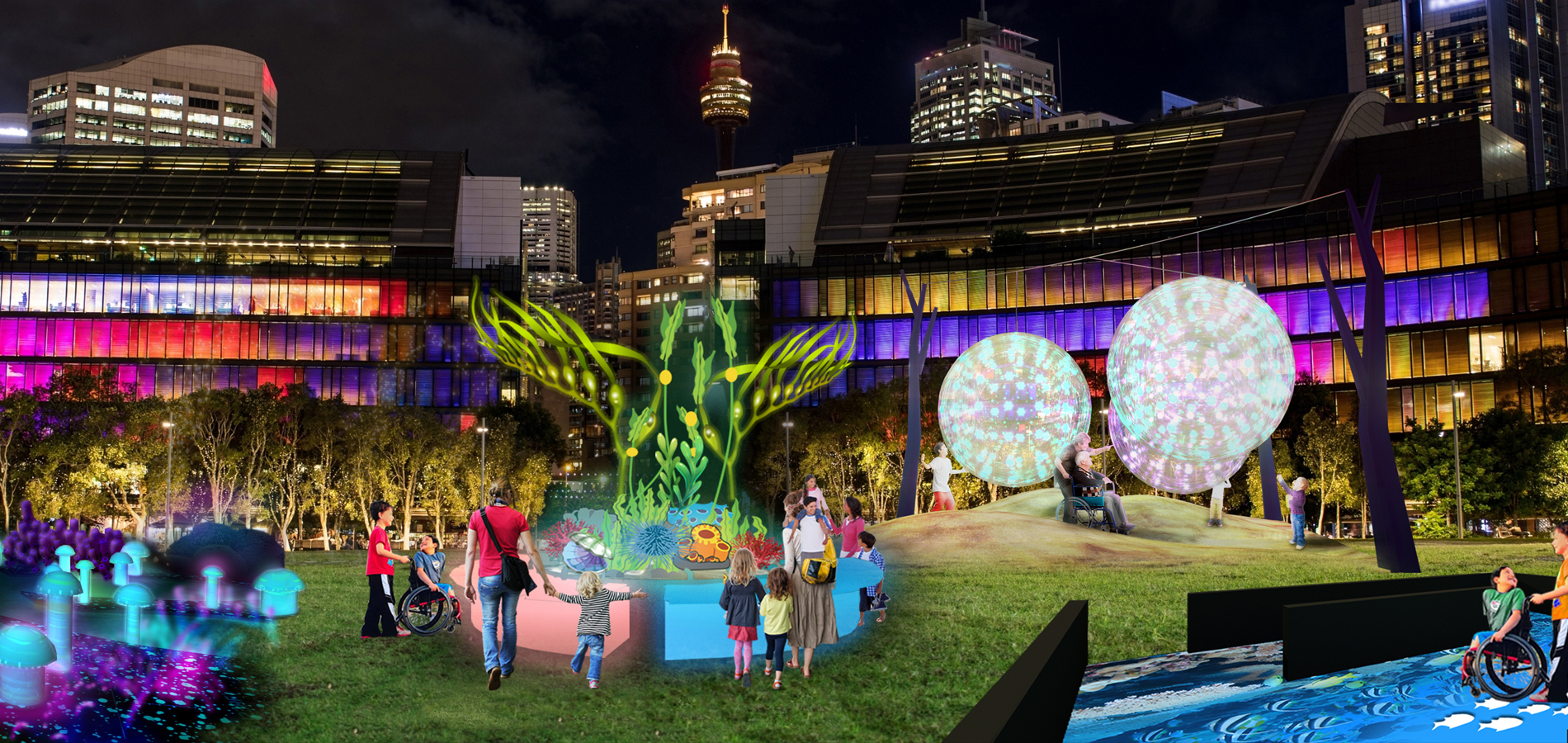 Discover an unforgettable underwater world at Tumbalong Lights, a collection of four deep-sea themed interactive light installations in the Vivid Sydney Darling Harbour precinct. Ideal for little ones and families, the immersive play area is set to enchant visitors and inspire lots of fun! Explore the four areas; Beneath the Sea, Enchanted Garden, In the Scale of the Sea and Ride into the Night, and enjoy an evening of family fun!
Free event, for more info click here.
25 May - 16 June, 6pm - 11pm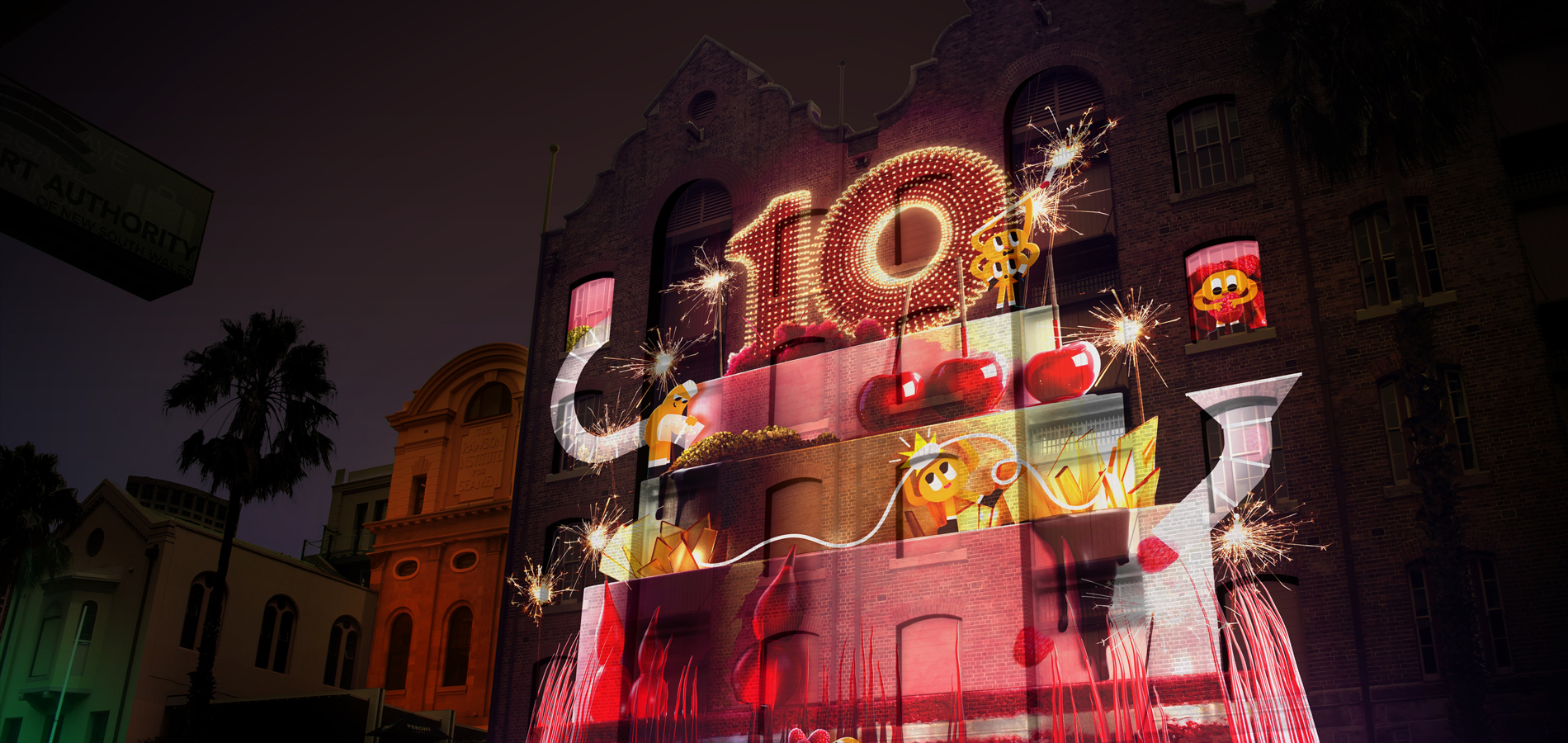 Who doesn't love birthday cake? Celebrate 10 years of Vivid Sydney in style with Mystery Gateau. Brought to you by Network Ten and Masterchef Australia, Mystery Gateau is an installation sure to bring a smile to your face. See the ASN Co. building morph into a birthday treat, complete with mini construction worker chefs to guide you through your magical journey - and the famous MasterChef clock ticking down to the surprise grand finale!
Free event, for more info click here.
25 May - 16 June, 6pm - 11pm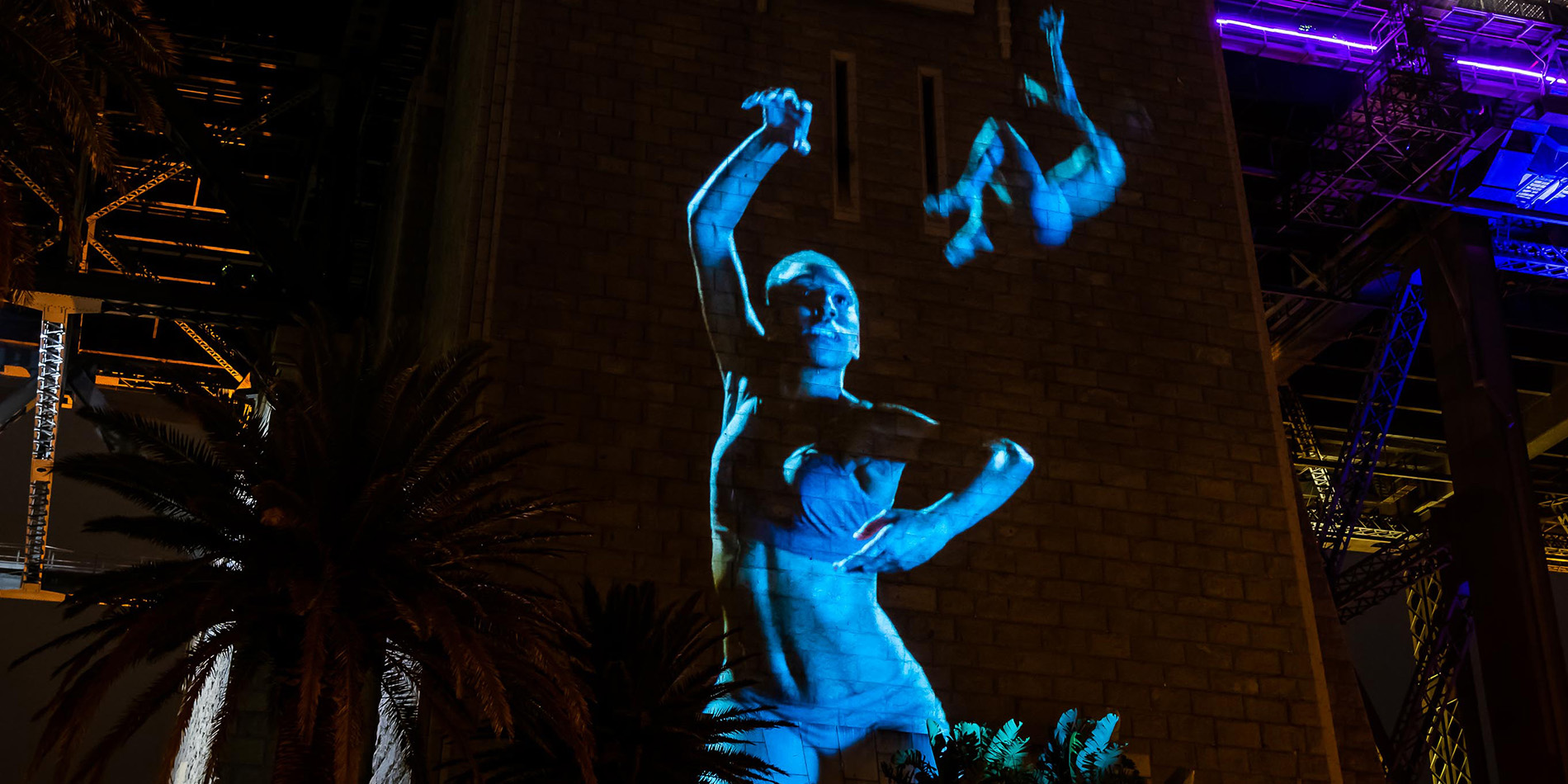 Explore the wonders of the cosmos with EORA - Dark Emu, a stunning visual projected onto the Southern Pylon of the Sydney Harbour Bridge. The light installation explores the legend of the Spirit Emu, as told through flowing physicality from Bangarra Dance Theatre. The legend goes that the Spirit Emu left the earth thousands of years ago to make a new home in the Milky Way - so keep your eyes to the skies.
Free event, for more info click here.
25 May - 17 June, 6pm - 11pm
Visit the MCA to see beautiful displays of colours as the facade of the building is filled with stunning psychedelic imagery. A collaboration by the creative Spinifex Group, composer Mark Pritchard and MCA Collection artist Jonny Niesche, Virtual Vibration is a collaborative large-scale projection that explores the modernist artwork of Niesche, and aims to give you an unforgettable, sensory experience. The reflecting visuals coupled with Pritchard's mesmerising score makes for an epic journey made for your viewing pleasure.
Free event, for more info click here.
25 May - 16 June, 6pm - 11pm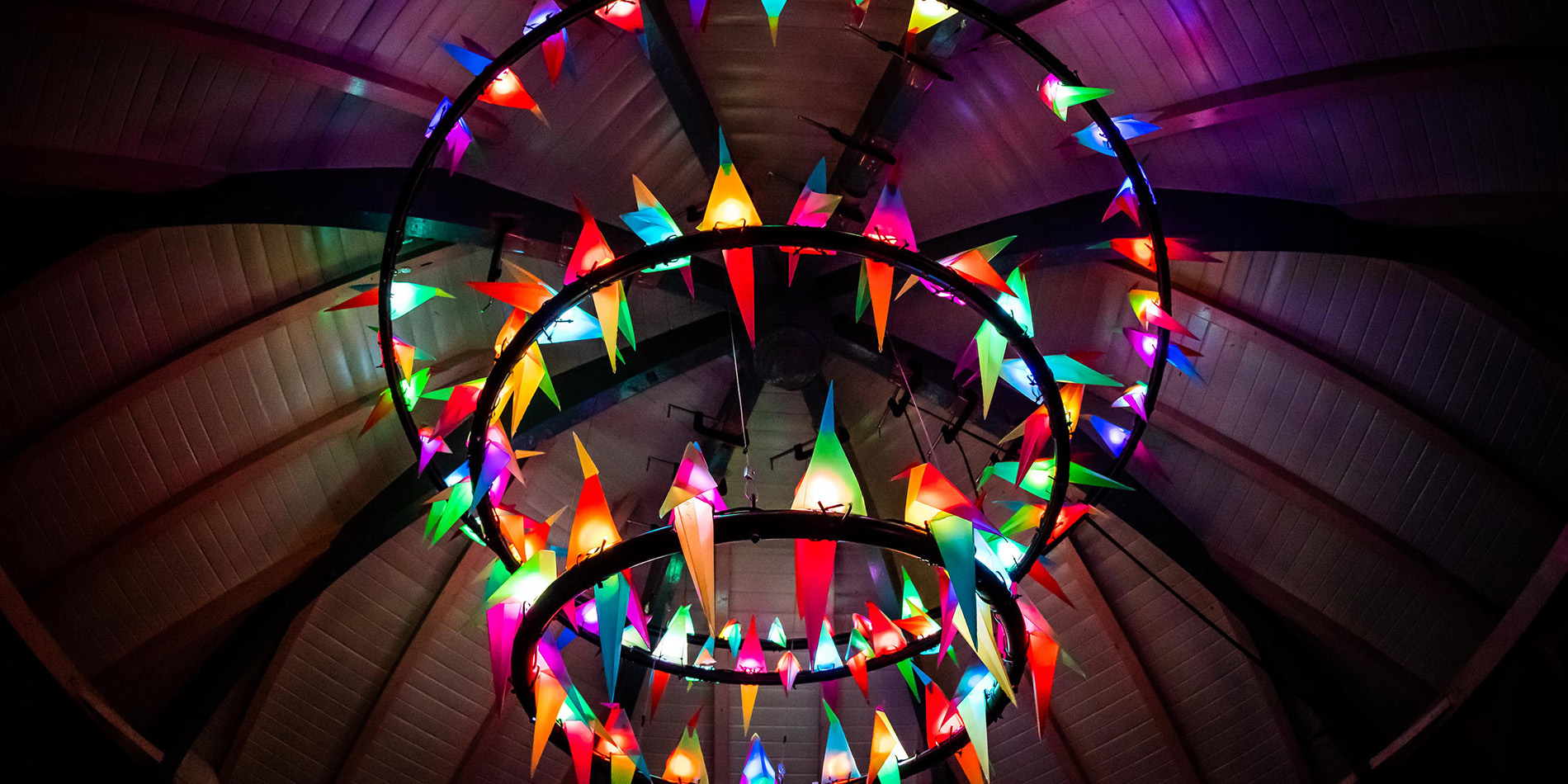 Join the party as a colourful flock of tropical birds take over the Royal Botanic Garden Sydney. Created by Zara Pasfield & Renzo Barriga-Larriviere, the beautiful birds of paradise use music and light to create a fun, interactive show for their party guests. Inspired by the New Zealand Kea parrot and the Australian rainbow lorikeet, the flock gets more excited as people gather round, breaking into sweet song and illuminating the gardens with colourful lights.
Free event, for more info click here.
25 May - 16 June, 6pm - 11pm
Excited yet? Find more amazing Vivid Sydney 2018 light shows here, download the app on iOS and Android now and get out and about this Vivid Sydney!